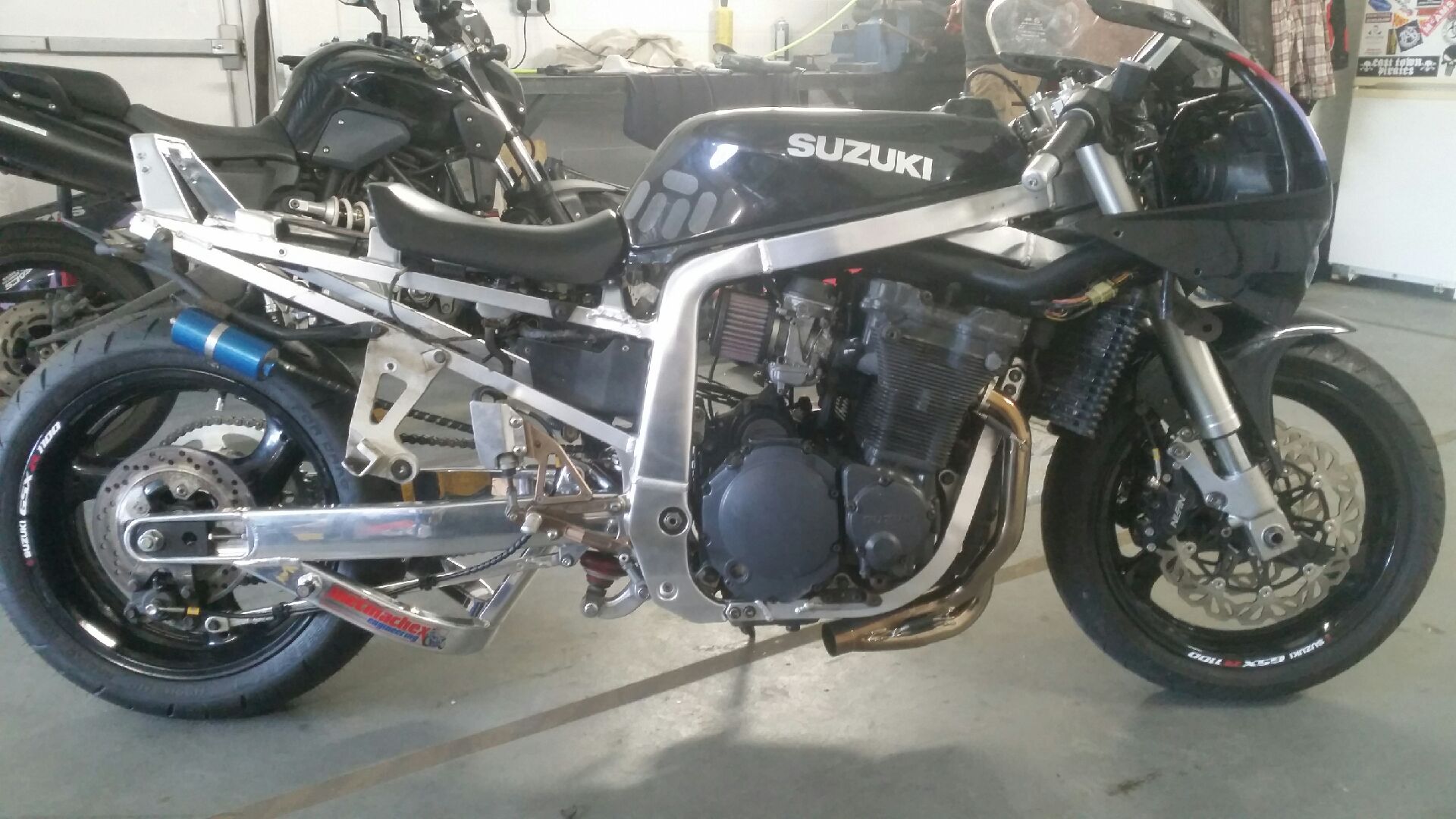 Having changed the exhaust system and the carbs on this GSXR 1100M it's now totally different from the engine that left the factory so it needs properly setting up if it's to run nicely. That's why you should always Dyno any bike you change the exhaust on, but people rarely do. I used to co-own the only Dyno in Central London so I know a thing or two about setting bikes up properly.
Dyno is not just for measuring power, it gives you air flow ratio from exhaust, this allows you to adjust the needles and jets in the carbs to get the fuel air mix spot on which also allows you maximize power. Too lean and the engine runs hot, too rich and the engine won't be happy either way you're not getting the best power.
Using a Dyno allows you to ride the bike to it's maximum (it's a rolling road). You can sort the fueling out all the way through the rev range from 500rpm to wherever the red line is. See the video below of this GSXR doing a power run. This GSXR made 136 bhp at the back wheel with minimal engine mods; full engine service, K&N filters, Dynojet kit and a full Akrapovic exhaust system (manufactures normally tell you what the bhp is at the crank which is going to be higher).
You can also see that we've put a nice new Metmachex swinging arm in (after the dyno run), this increases the overall length of the bike increasing stability on the drag strip. Look carefully and you'll also note that we've shortened the forks, the American's call this "slamming", an inch lower to the ground is worth three inches more length, again increasing stability on the drag strip and allowing much better and faster starts. We've also manufactured adjustable dog bone linkages for the monoshock to allow us to alter the height at the back end. All of these little features really help to get the best out of the bike over the 1/4 mile and improve times and speed. Don't ever neglect the chassis when looking for speed - even when it's in a straight line!